24 August 2006: The engine is in!
Last night we finally managed to get the 1600 engine into the pickup! It runs, but there are still a lot of little jobs that need sorting. So I won't be taking it to the show in Spa this weekend.
14 August 2006: The 1600cc engine saga
The new (1600cc) engine has been ready for a few months, but somehow we hadn't been able to get around to fitting it in the pickup. The weather foarecast for last weekend was pretty bad, so we decided not to go to Bitburg. Plan B: fit the engine!
The gearbox on the pickup is for a 109 teeth flywheel. The new engine had a 130 teeth flywheel. we couldn't swap it over, as the bit that sits over the crank is shaped differently. the boys at BBT had a propper unit in stock, so we cruised down to get it (and a new clutch). After an afternoon of bolting bits together it turns out that the new flywheel wasn't to the same spec as was written on the box!! :-(
They are now gona machine a 109 unit down so it will fit over the new model crank. should be finished in a few days
01 August 2006: Bug In Europe in 2007
Looks like june 2007 is gona be a very busy month with Budel, Bad Camberg and the Bug In Europe!
3 big shows back to back on 3 weekends, bring it on!
01 August 2006: Prosign Pinstripe Workshop : 23 & 24 september 2007
Wana learn to pinstripe or just have a fun weekend with a bunch of pinstripers (and improve you skills).
Then head down to Croydon in spetember for the Prosign pinstripe workshop. More info on : www.prosign1.co.uk/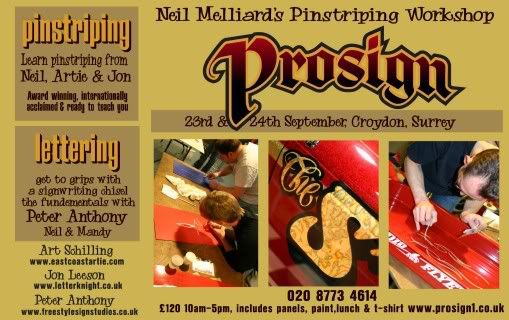 (check out the dudes in the left pic)
Archive:
June 2017
July 2013
June 2012
May 2012
March 2012
December 2011
April 2011
December 2010
November 2010
October 2010
August 2010
July 2010
May 2010
March 2010
October 2009
September 2009
August 2009
July 2009
May 2009
April 2009
March 2009
January 2009
December 2008
November 2008
September 2008
August 2008
July 2008
June 2008
May 2008
April 2008
December 2007
November 2007
October 2007
August 2007
July 2007
June 2007
May 2007
April 2007
March 2007
February 2007
December 2006
November 2006
October 2006
September 2006
August 2006
July 2006
June 2006
May 2006
April 2006
March 2006
February 2006
January 2006
December 2005
November 2005
October 2005
September 2005
August 2005
July 2005
June 2005
May 2005
April 2005
March 2005
February 2005
January 2005
December 2004
November 2004
October 2004
September 2004
August 2004
July 2004
June 2004
May 2004
April 2004
March 2004
February 2004
January 2004
November 2003
July 2003
June 2003
February 2003